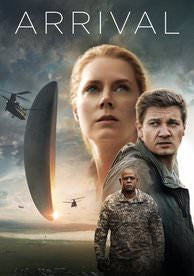 Arrival (Vudu/HDX)
Movie Description:
When mysterious spacecraft touch down across the globe, an elite team--lead by expert linguist Louise Banks (Amy Adams)--are brought together to investigate. As mankind teeters on the verge of global war, Banks and the team race against time for answers--and to find them, she will take a chance that could threaten her life, and quite possibly humanity.
You are Purchasing a

USA Code
(Vudu/HDX).
**This is for a digital code only**
This code can only be redeemed using Vudu. Please use the link that we provide with your order.
No returns or exchanges after code is purchased.
**NO EXCEPTIONS**
(These emails will not be replied back to)
Related Products