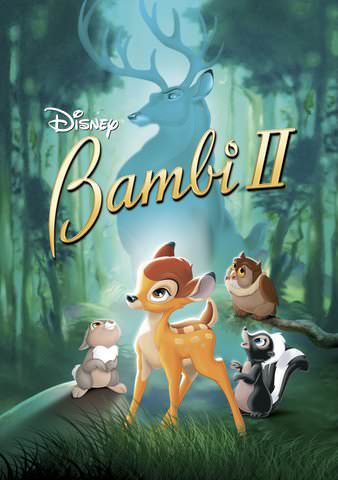 Bambi II (2006) (Disney/MA/HD)
Movie Description:
All your favorite characters are back - Bambi, Thumper, Owl, Flower and Faline - in Bambi II. Return to the forest and join Bambi as he reunites with his father, The Great Prince, who must now raise the young fawn on his own. But in the adventure of a lifetime, the proud parent discovers there is much he can learn from his spirited young son. Celebrate the unbreakable bonds of family and the power of friendship in this unforgettable coming-of-age tale your family will enjoy again and again.
You are Purchasing a

Disney Redeem (Disney/MA/HD).

**This is for a digital code only**

As far as we can tell our Disney codes are full codes, but with the changes of Disney movie Rewards to Disney Insiders we can no longer test or validate the points on any of our Disney codes. Because of this we can no longer guarantee that the points are still valid on any of the Disney codes or what amount of points are available with certain movies.
Any available redeems for this codes is allowed. We only test our codes with moviesanywhere so we DO NOT guarantee the workings of any splitting of Disney Codes. We personally do not split our Disney Codes.
No returns or exchanges after code is purchased.
**NO EXCEPTIONS**
(These emails will not be replied back to)
Related Products