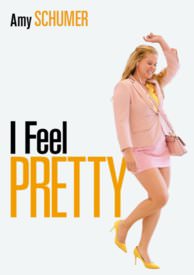 I Feel Pretty (iTunes/HD)
Movie Description:
THIS IS AN ITUNES ONLY CODE
THIS MOVIE WAS ONLY RELEASED DIGITALLY FOR ITUNES.
In I FEEL PRETTY a woman who struggles with feelings of deep insecurity and low self-esteem, that hold her back everyday, wakes from a brutal fall in an exercise class believing she is suddenly a supermodel. With this newfound confidence she is empowered to live her life fearlessly and flawlessly, but what will happen when she realizes her appearance never changed?
This code is only for a

(iTunes/HD)

**This is for a digital code only**




This code will only redeem via iTunes. Please use the iTunes software or an apple device to redeem this code.




Please Read:
Not all codes will transfer to movies anywhere. Please make sure of the studios that are partnered with Movies Anywhere. Also we will not guarantee or return or exchange a code that does not transfer from iTunes. We do not control this.
No returns or exchanges after code is purchased.
**NO EXCEPTIONS**
(These emails will not be replied back to)
Related Products