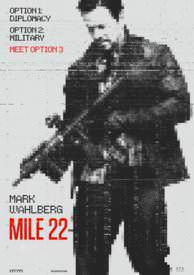 Mile 22 (iTunes/HD)
Movie Description:
THIS IS A ITUNES ONLY CODE. THIS MOVIE WAS NOT RELEASED FOR UV OR MA.
In a visceral modern thriller from the director of Lone Survivor, Mark Wahlberg stars as James Silva, an operative of the CIA's most highly-prized and least understood unit. Aided by a top-secret tactical command team, Silva must retrieve and transport an asset who holds life-threatening information to Mile 22 for extraction before the enemy closes in.
This code is only for a

(iTunes/HD)

**This is for a digital code only**




This code will only redeem via iTunes. Please use the iTunes software or an apple device to redeem this code.




Please Read:
Not all codes will transfer to movies anywhere. Please make sure of the studios that are partnered with Movies Anywhere. Also we will not guarantee or return or exchange a code that does not transfer from iTunes. We do not control this.
No returns or exchanges after code is purchased.
**NO EXCEPTIONS**
(These emails will not be replied back to)