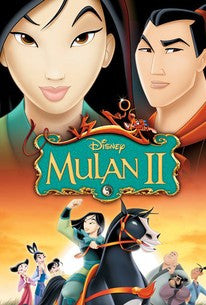 Mulan 2 (Disney/MA/HD)
Movie Description:
Mulan II, the direct-to-video sequel to the Disney hit Mulan, begins with the title character becoming engaged to General Shang. Before they can begin a life of wedded bliss, they must escort a trio of princesses to weddings of their own in order to facilitate a peace between warring nations. Mulan begins to believe her mission may be less than noble upon discovering that the women are being forced into arranged marriages against their will. Mulan ends up opposing her beloved General Shang in order to fight for what is right. ~ Perry Seibert, Rovi
You are Purchasing a

Disney Redeem (Disney/MA/HD).

**This is for a digital code only**

As far as we can tell our Disney codes are full codes, but with the changes of Disney movie Rewards to Disney Insiders we can no longer test or validate the points on any of our Disney codes. Because of this we can no longer guarantee that the points are still valid on any of the Disney codes or what amount of points are available with certain movies.
Any available redeems for this codes is allowed. We only test our codes with moviesanywhere so we DO NOT guarantee the workings of any splitting of Disney Codes. We personally do not split our Disney Codes.
No returns or exchanges after code is purchased.
**NO EXCEPTIONS**
(These emails will not be replied back to)
Related Products