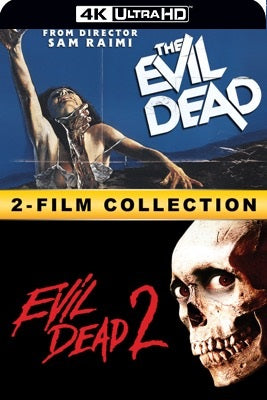 The Evil Dead 1 & 2 Double Feature (Bundle) 4k (Vudu/4K)
Movie Description:
The Evil Dead:
In 1979, a group of college students who, during a weekend getaway, find a Sumerian Book of the Dead in an old wilderness cabin they've rented. When they unwittingly unleash evil spirits and demons while reading incantations from the book, that's when the real havoc begins. As each of the kids, one by one, are possessed by the demons they've let loose, body parts and bodily fluids go a-flying until only one young man is left to face down THE EVIL DEAD.
Evil Dead 2: Dead by Dawn:
Ash, the sole survivor of THE EVIL DEAD, returns to the same cabin in the woods and again unleashes the forces of the dead. With his girlfriend possessed by the demons and his body parts running amok, Ash is forced to single-handedly battle the legions of the damned as the most lethal and groovy-hero in horror movie history! Welcome to EVIL DEAD II, director Sam Raimi's infamous sequel to THE EVIL DEAD and outrageous prequel to ARMY OF DARKNESS!
You are Purchasing a

USA Code
(Vudu/4K).
**This is for a digital code only**
This code can only be redeemed using Vudu. Please use the link that we provide with your order.
No returns or exchanges after code is purchased.
**NO EXCEPTIONS**
(These emails will not be replied back to)
Related Products