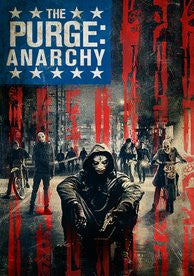 The Purge: Anarchy (MA or Vudu/HDX)
Movie Description:
Movie Info
The New Founders of America invite you to celebrate your annual right to Purge. The Purge: Anarchy, the sequel to summer 2013's sleeper hit that opened to No. 1 at the box-office, sees the return of writer/director James DeMonaco to craft the next terrifying chapter of dutiful citizens preparing for their country's yearly 12 hours of anarchy. Returning alongside DeMonaco to produce The Purge: Anarchy are Blumhouse Productions' Jason Blum (Paranormal Activity and Insidious series), alongside Sébastien K. Lemercier (Assault on Precinct 13, Four Lovers) and Platinum Dunes partners Michael Bay (Pain & Gain, Transformers franchise), Brad Fuller (The Amityville Horror, A Nightmare on Elm Street) and Andrew Form (The Texas Chainsaw Massacre, Friday the 13th). www.blumhouse.com/film/thepurgeanarchy (c) Uniersal
You are Purchasing a

USA Code
(MA or Vudu/HDX).
**This is for a digital code only**
This code can be redeemed via Movies Anywhere or Vudu.
For MA/Vudu Codes you will still need to have a Movies Anywhere account to redeem these even on Vudu.
Your order may contain a link to Vudu, but you may also use moviesanywhere.com.
No returns or exchanges after code is purchased.
**NO EXCEPTIONS**
(These emails will not be replied back to)