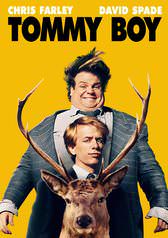 Tommy Boy (Vudu/HDX)
Movie Description:
Party animal Tommy Callahan is definitely a few cans short of a six-pack. But after seven years, Tommy's finally earned his diploma - and a cushy job at Callahan Auto Parts. Returning home, Tommy gets some more great news: his dad is marrying a real "10," and Tommy will get the stepbrother he always wanted. Awesome! But as the family business starts tanking, Tommy's got to hit the road with his dad's right-hand man to save it.
You are Purchasing a

USA Code
(Vudu/HDX).
**This is for a digital code only**
This code can only be redeemed using Vudu. Please use the link that we provide with your order.
No returns or exchanges after code is purchased.
**NO EXCEPTIONS**
(These emails will not be replied back to)
Related Products