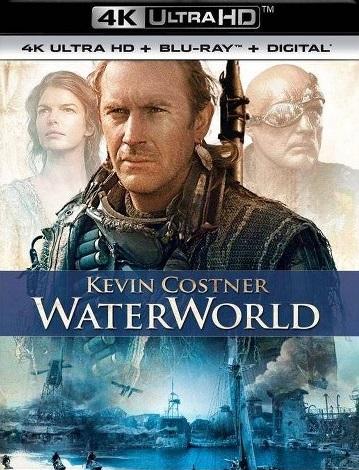 Waterworld 4k (MA or Vudu/4k)
Movie Description:
This epic sci-fi actioner is set 200 years in the future. The polar ice caps have melted, flooding the continents and creating a giant ocean. People are few and far between, living as sailors or on rickety atolls made from scrap metal; in this time, dry land is considered a myth and dirt and water have become the most valuable currency. The film begins as a mysterious Mariner aboard his ingenious trimaran urinates carefully into a small jar. He then pours the golden liquid into a filtration device that purifies it and makes it drinkable. The Mariner is self sufficient and eschews humanity, except for occasional stops for supplies. He is different from other humans in that he has developed functional gills and has webbed feet. Such a mutation makes him a pariah. He cruises into a rusty atoll and tries to exchange dirt for supplies. The half-crazy people within the fortress end up putting him in a cage and planning to recycle him in a bubbling vat of green effluvium. Just before he is to die, the fortress is attacked by a flotilla of Smokers (tobacco addicted sea bikers) led by the bald, one-eyed and crazy Deacon who has come to search for a little girl with a strange tattoo on her back that is said to be a map leading to dry land. The girl and her mother escape with the reluctant Mariner. Eventually Deacon and the Smokers capture the girl and it is up to the fishy stranger to save her from their hulking lair (which turns out to be the notorious wreck of the Exxon Valdez).
You are Purchasing a

USA Code
(MA or Vudu/4k).
**This is for a digital code only**
This code can be redeemed via Movies Anywhere or Vudu.
For MA/Vudu Codes you will still need to have a Movies Anywhere account to redeem these even on Vudu.
Your order may contain a link to Vudu, but you may also use moviesanywhere.com.
No returns or exchanges after code is purchased.
**NO EXCEPTIONS**
(These emails will not be replied back to)
Related Products