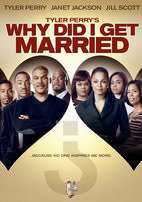 Why Did I Get Married? (2007) (Vudu/HDX)
Movie Description:
WHY DID I GET MARRIED? is an intimate story about the difficulty of maintaining a solid love relationship in modern times. During a trip to the picturesque snow-capped mountains of Colorado, eight married college friends have gathered for their annual seven- day reunion. But the cozy mood is shattered when the group comes face-to-face with one pair's infidelity. As secrets are revealed, each couple begins questioning the validity of their own marriage.
You are Purchasing a

USA Code
(Vudu/HDX).
**This is for a digital code only**
This code can only be redeemed using Vudu. Please use the link that we provide with your order.
No returns or exchanges after code is purchased.
**NO EXCEPTIONS**
(These emails will not be replied back to)
Related Products