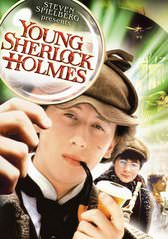 Young Sherlock Holmes (Vudu/HDX)
Movie Description:
A teenage Sherlock Holmes (Nicholas Rowe) meets and befriends his future sidekick, the bemused and bespectacled John Watson (Alan Cox). During their first semester of boarding school, a series of deaths occur on campus. Intrigued by the crime, Holmes looks into it and soon comes to suspect a poisonous hallucinogen. And then, in the midst of their investigation, Holmes and Watson stumble on a bizarre cult with a penchant for human sacrifice -- after which they must struggle to escape.
You are Purchasing a

USA Code
(Vudu/HDX).
**This is for a digital code only**
This code can only be redeemed using Vudu. Please use the link that we provide with your order.
No returns or exchanges after code is purchased.
**NO EXCEPTIONS**
(These emails will not be replied back to)