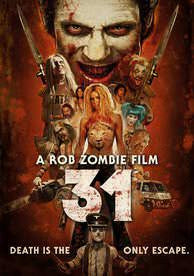 31 (Vudu/HDX)
Movie Description:
31 tells the story of five carnies in 1976 kidnapped on the morning of Halloween and held hostage in a remote industrial Hell. While trapped, they are forced to play a violent game called 31. The mission is to survive 12 hours against an endless gang of grease-painted maniacs.
You are Purchasing a

USA Code
(Vudu/HDX).
**This is for a digital code only**
This code can only be redeemed using Vudu. Please use the link that we provide with your order.
No returns or exchanges after code is purchased.
**NO EXCEPTIONS**
(These emails will not be replied back to)
Related Products