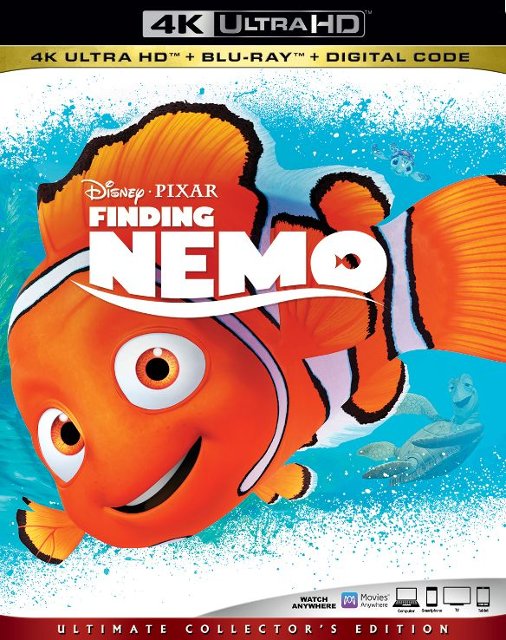 Finding Nemo 4k (Disney/MA/4k)
Movie Description:
In this stunning underwater adventure, with memorable characters, humor and heartfelt emotion, Finding Nemo follows the comedic and momentous journey of an overly protective clownfish named Marlin (voice by Albert Brooks) and his son Nemo (voice by Alexander Gould) -- who become separated in the Great Barrier Reef when Nemo is unexpectedly taken far from his ocean home and dumped into a fish tank in a dentist's office. Buoyed by the companionship of Dory (voice by Ellen DeGeneres), a friendly-but-forgetful Pacific regal blue tang, Marlin embarks on a dangerous trek and finds himself the unlikely hero of an epic effort to rescue his son -- who hatches a few daring plans of his own to return safely home. -- (C) Official Site
You are Purchasing a

Disney Redeem (Disney/MA/4k).

**This is for a digital code only**

As far as we can tell our Disney codes are full codes, but with the changes of Disney movie Rewards to Disney Insiders we can no longer test or validate the points on any of our Disney codes. Because of this we can no longer guarantee that the points are still valid on any of the Disney codes or what amount of points are available with certain movies.
Any available redeems for this codes is allowed. We only test our codes with moviesanywhere so we DO NOT guarantee the workings of any splitting of Disney Codes. We personally do not split our Disney Codes.
No returns or exchanges after code is purchased.
**NO EXCEPTIONS**
(These emails will not be replied back to)
Related Products