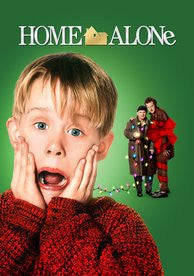 Home Alone (MA or Vudu/HDX)
Movie Description:
Home Alone is the highly successful and beloved family comedy about a young boy named Kevin (Macaulay Culkin) who is accidentally left behind when his family takes off for a vacation in France over the holiday season. Once he realizes they've left him home alone, he learns to fend for himself and, eventually has to protect his house against two bumbling burglars (Joe Pesci, Daniel Stern) who are planning to rob every house in Kevin's suburban Chicago neighborhood. Though the film's slapstick ending may be somewhat violent, Culkin's charming presence helped the film become one of the most successful ever at the time of its release.~ Stephen Thomas Erlewine, All Movie Guide
You are Purchasing a

USA Code
(MA or Vudu/HDX).
**This is for a digital code only**
This code can be redeemed via Movies Anywhere or Vudu.
For MA/Vudu Codes you will still need to have a Movies Anywhere account to redeem these even on Vudu.
Your order may contain a link to Vudu, but you may also use moviesanywhere.com.
No returns or exchanges after code is purchased.
**NO EXCEPTIONS**
(These emails will not be replied back to)
Related Products