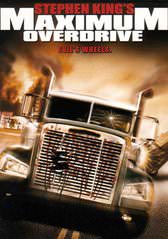 Maximum Overdrive (Vudu/HDX)
Movie Description:
When a mysterious comet passes close to Earth, machines everywhere suddenly take on murderous minds of their own. Soon, video games, cash machines, drawbridges, and steamrollers all go on a psychotic killing spree of global rebellion. But when the Dixie Boy Truck Stop is held hostage by a mob of homicidal 18-wheelers, human vengeance goes into overdrive. Who made who? And who will survive the final showdown of man vs. bloodthirsty machine?
You are Purchasing a

USA Code
(Vudu/HDX).
**This is for a digital code only**
This code can only be redeemed using Vudu. Please use the link that we provide with your order.
No returns or exchanges after code is purchased.
**NO EXCEPTIONS**
(These emails will not be replied back to)
Related Products