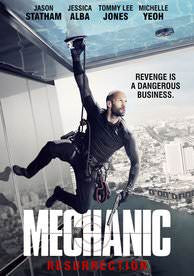 Mechanic Resurrection (Vudu/HDX)
Movie Description:
Arthur Bishop (Jason Statham) returns as the Mechanic in the sequel to the 2011 action thriller. When the deceitful actions of a cunning but beautiful woman (Jessica Alba) force him to return to the life he left behind, Bishop's life is once again in danger as he has to complete an impossible list of assassinations of the most dangerous men in the world.
Rating:
R (for violence throughout and language)
You are Purchasing a

USA Code
(Vudu/HDX).
**This is for a digital code only**
This code can only be redeemed using Vudu. Please use the link that we provide with your order.
No returns or exchanges after code is purchased.
**NO EXCEPTIONS**
(These emails will not be replied back to)