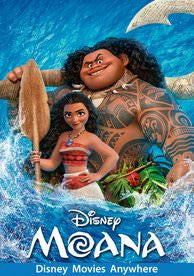 Moana (Disney/MA/HD)
Movie Description:
Three thousand years ago, the greatest sailors in the world voyaged across the vast Pacific, discovering the many islands of Oceania. But then, for a millennium, their voyages stopped - and no one knows exactly why. From Walt Disney Animation Studios comes "Moana," a sweeping, CG-animated feature film about an adventurous teenager who sails out on a daring mission to save her people. During her journey, Moana (voice of Auli'i Cravalho) meets the mighty demigod Maui (voice of Dwayne Johnson), who guides her in her quest to become a master wayfinder. Together, they sail across the open ocean on an action-packed voyage, encountering enormous monsters and impossible odds, and along the way, Moana fulfills the ancient quest of her ancestors and discovers the one thing she's always sought: her own identity. Directed by the renowned filmmaking team of Ron Clements and John Musker ("The Little Mermaid," "Aladdin," "The Princess & the Frog"), produced by Osnat Shurer ("Lifted," "One Man Band"), and featuring music by Lin-Manuel Miranda, Mark Mancina and Opetaia Foa'i, "Moana" sails into U.S. theaters on Nov. 23, 2016.
You are Purchasing a

Disney Redeem (Disney/MA/HD).

**This is for a digital code only**

As far as we can tell our Disney codes are full codes, but with the changes of Disney movie Rewards to Disney Insiders we can no longer test or validate the points on any of our Disney codes. Because of this we can no longer guarantee that the points are still valid on any of the Disney codes or what amount of points are available with certain movies.
Any available redeems for this codes is allowed. We only test our codes with moviesanywhere so we DO NOT guarantee the workings of any splitting of Disney Codes. We personally do not split our Disney Codes.
No returns or exchanges after code is purchased.
**NO EXCEPTIONS**
(These emails will not be replied back to)
Related Products