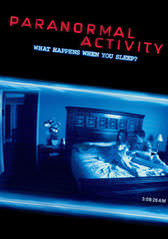 Paranormal Activity (Theatrical) (Vudu/HDX)
Movie Description:
After a young, middle class couple moves into what seems like a typical suburban "starter" tract house, they become increasingly disturbed by a presence that may or may not be demonic but is certainly most active in the middle of the night. Especially when they sleep. Or try to.
You are Purchasing a

USA Code
(Vudu/HDX).
**This is for a digital code only**
This code can only be redeemed using Vudu. Please use the link that we provide with your order.
No returns or exchanges after code is purchased.
**NO EXCEPTIONS**
(These emails will not be replied back to)