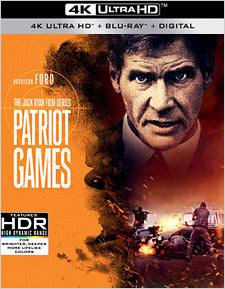 Patriot Games 4k (Vudu/4K)
Movie Description:
In Patriot Games, Harrison Ford plays former CIA agent Jack Ryan, taking over from Alec Baldwin, who had played author Tom Clancy's brainy protagonist in Hunt for Red October. This time around, Ryan foils an attempted assassination, thereby incurring the wrath of a maniacal Irish radical (Sean Bean). After seemingly neutralizing the villains, and deciding to celebrate the occasion with his wife (Anne Archer) and daughter (Thora Birch), everything appears to be back to normal; then all hell breaks loose. Author Tom Clancy himself bemoaned the liberties taken with his novel in the final sequences; the picture scored with audiences, however, and soon inspired a followup, A Clear and Present Danger (1994), also starring Ford.
You are Purchasing a

USA Code
(Vudu/4K).
**This is for a digital code only**
This code can only be redeemed using Vudu. Please use the link that we provide with your order.
No returns or exchanges after code is purchased.
**NO EXCEPTIONS**
(These emails will not be replied back to)
Related Products