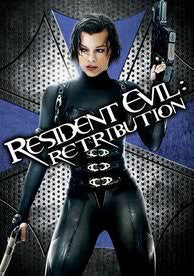 Resident Evil: Retribution (MA or Vudu/HDX)
Movie Description:
The Umbrella Corporation's deadly T-virus is spreading across the globe, transforming ordinary people into legions of undead. Headed for extinction, the human race has just one hope: Alice (Milla Jovovich). She's on a mission, fighting her way through cities and across continents, all inside Umbrella's prime research facility. Old friends become new enemies as she battles to escape and discovers that everything that she believes may not even be true.
You are Purchasing a

USA Code
(MA or Vudu/HDX).
**This is for a digital code only**
This code can be redeemed via Movies Anywhere or Vudu.
For MA/Vudu Codes you will still need to have a Movies Anywhere account to redeem these even on Vudu.
Your order may contain a link to Vudu, but you may also use moviesanywhere.com.
No returns or exchanges after code is purchased.
**NO EXCEPTIONS**
(These emails will not be replied back to)