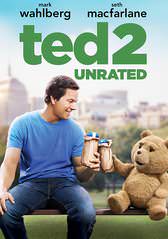 Ted 2 (Unrated) (MA or Vudu/HDX)
Movie Description:
Life has changed drastically for thunder buddies John, now a bachelor, and best pal Ted, now married to the woman of his dreams. Problems arise when the couple decide to adopt a child, but the law declares Ted to be property and not a person. Angry and dejected, the lovably foulmouthed teddy bear must now seek legal help from a young lawyer and a legendary, civil-rights attorney to get the justice he deserves.
You are Purchasing a

USA Code
(MA or Vudu/HDX).
**This is for a digital code only**
This code can be redeemed via Movies Anywhere or Vudu.
For MA/Vudu Codes you will still need to have a Movies Anywhere account to redeem these even on Vudu.
Your order may contain a link to Vudu, but you may also use moviesanywhere.com.
No returns or exchanges after code is purchased.
**NO EXCEPTIONS**
(These emails will not be replied back to)