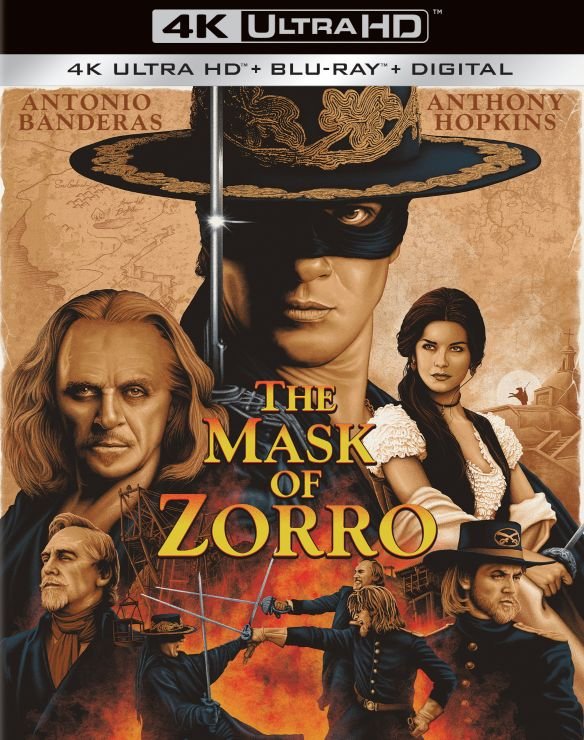 The Mask of Zorro 4k (MA or Vudu/4k)
Movie Description:
Director Martin Campbell, well-known to the action arena after 1995's GoldenEye, teams up with executive producer Steven Spielberg to bring the first Hollywood production of creator Johnston McCulley's Zorro in over four decades to the big screen. With scenic 18th century Mexico as a backdrop, Anthony Hopkins plays the original Zorro, a.k.a. Don Diego de la Vega, intent on revenge after rival enemy Don Raphael Montero (Stuart Wilson) murdered his wife and took his daughter, Elena. After being imprisoned for 20 years, the fabled hero removes his mask and takes on a tarnished young apprentice, Alejandro Murieta (Antonio Banderas), to infiltrate Montero's plan to take control of California from Santa Anna. A boisterous outlaw with his own desire for revenge, Murieta works with Diego to avenge his brother's death by the sword of Montero's right-hand man, Captain Harrison Love (Matt Letscher, in his big screen debut). After Diego's extensive training in swordfighting, discipline and manners, a new Zorro appears wreaking vengeance and stealing the heart of a now-grown Elena (Catherine Zeta-Jones). A sizable summer hit, the film served as Zeta-Jones' stepping stone to leading lady status as the high-spirited heroine. ~ Rachel Koetje, Rovi
You are Purchasing a

USA Code
(MA or Vudu/4k).
**This is for a digital code only**
This code can be redeemed via Movies Anywhere or Vudu.
For MA/Vudu Codes you will still need to have a Movies Anywhere account to redeem these even on Vudu.
Your order may contain a link to Vudu, but you may also use moviesanywhere.com.
No returns or exchanges after code is purchased.
**NO EXCEPTIONS**
(These emails will not be replied back to)
Related Products