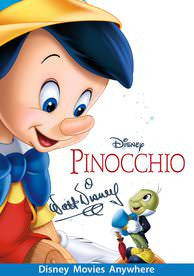 Pinocchio (Disney/MA/HD)
Movie Description:
When the gentle woodcarver Geppetto (Christian Rub) builds a marionette to be his substitute son, a benevolent fairy brings the toy to life. The puppet, named Pinocchio (Dick Jones), is not yet a human boy. He must earn the right to be real by proving that he is brave, truthful, and unselfish. But, even with the help of Jiminy (Cliff Edwards), a cricket who the fairy assigns to be Pinocchio's conscience, the marionette goes astray. He joins a puppet show instead of going to school, he lies instead of telling the truth, and he travels to Pleasure Island instead of going straight home. Yet, when Pinocchio discovers that a whale has swallowed Geppetto, the puppet single-mindedly journeys into the ocean and selflessly risks his life to save his father, thereby displaying that he deserves to be a real boy. Based on a series of stories by 19th century Italian author Carlo Collodi, Pinocchio came under fire for being a sugarcoated version of its original tale, but the film's moral did have a strong educational effect on children. Soon enough, a 16 mm excerpt from the picture, titled "Pinocchio: A Lesson in Honesty," was released for teachers to use in schools. ~ Aubry Anne D'Arminio, Rovi
You are Purchasing a

Disney Redeem (Disney/MA/HD).

**This is for a digital code only**

As far as we can tell our Disney codes are full codes, but with the changes of Disney movie Rewards to Disney Insiders we can no longer test or validate the points on any of our Disney codes. Because of this we can no longer guarantee that the points are still valid on any of the Disney codes or what amount of points are available with certain movies.
Any available redeems for this codes is allowed. We only test our codes with moviesanywhere so we DO NOT guarantee the workings of any splitting of Disney Codes. We personally do not split our Disney Codes.
No returns or exchanges after code is purchased.
**NO EXCEPTIONS**
(These emails will not be replied back to)
Related Products