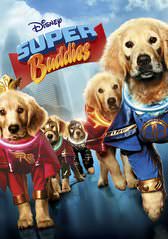 Super Buddies (Disney/MA/HD)
Movie Description:
Watch the fur fly as a new breed of super hero is born in Disney's fun-filled epic adventure. Packed with laughter and action, Super Buddies proves when you use your wits and work together, you don't need super powers to be a super hero!
You are Purchasing a

Disney Redeem (Disney/MA/HD).

**This is for a digital code only**

As far as we can tell our Disney codes are full codes, but with the changes of Disney movie Rewards to Disney Insiders we can no longer test or validate the points on any of our Disney codes. Because of this we can no longer guarantee that the points are still valid on any of the Disney codes or what amount of points are available with certain movies.
Any available redeems for this codes is allowed. We only test our codes with moviesanywhere so we DO NOT guarantee the workings of any splitting of Disney Codes. We personally do not split our Disney Codes.
No returns or exchanges after code is purchased.
**NO EXCEPTIONS**
(These emails will not be replied back to)
Related Products